Business Skills Modules online
Our business skills modules are designed to enhance students' English skills in specific, targeted areas. Each module incorporates activities covering language development, skills training and the specific business communications skills required.
Each class is packed with fun activities and is supplemented by worksheets and audio-visual activities for in class and at home. Objectives and achievements are clearly laid out and learners are provided with monthly tests and self-study materials track their progress. We provide all the materials required to help you specialize in the different business skills you need and get ahead in the business world.
DETAILS:
Duration: 24 hours
Level: Pre-intermediate
Groups size: 1-4 students
Our business skills modules are designed to teach you to communicate effectively in English in professional contexts. Depending on the module you select, you will expand your English vocabulary, improve your ability to write and speak in English in both social and professional interactions, and learn terminology and skills that you can apply to business negotiations, telephone conversations, written reports, emails, and professional presentations.
You will learn through authentic, goal-oriented real world tasks designed to develop your English skills and build your confidence and fluency.
You will study and develop all of the core language skills (speaking, listening, reading and writing) in a business context.
Objectives and achievements are clearly defined at the beginning of the course and you will be tested both formally and informally at regular intervals.
You have the opportunity to complete teacher set tasks at home to measure your own progress.
You will develop real-world business English skills for the skills defined above
You will achieve an understanding the language and register we use in business, why we use it and how you can use it to communicate effectively
You will increase your confidence and fluency when faced with English business situations
Meetings
This course will teach you vocabulary and skills related to participating in meetings. You will learn terms and phrases used in speaking to arrange, participate in, and conclude meetings. The goals of this course are to enable you to participate effectively in on-site meetings and teleconferences.
Course Objectives
Giving and asking for opinions
Developing an argument
Agreeing and disagreeing
Making suggestions
Checking understanding
Diplomatic language
Chairing a meeting
Dealing with problems
Presentations
This course teaches you essential language and techniques that will help you make effective presentations in English. The final task is to develop a well-organized, persuasive presentation using charts and graphs.
Course Objectives
An introduction to presentations
Present information in an organized and engaging way (signposts)
Using your voice
Dealing with questions
Use persuasive language in a presentation
Presenting a project
Share data in charts and graphs
Describing trends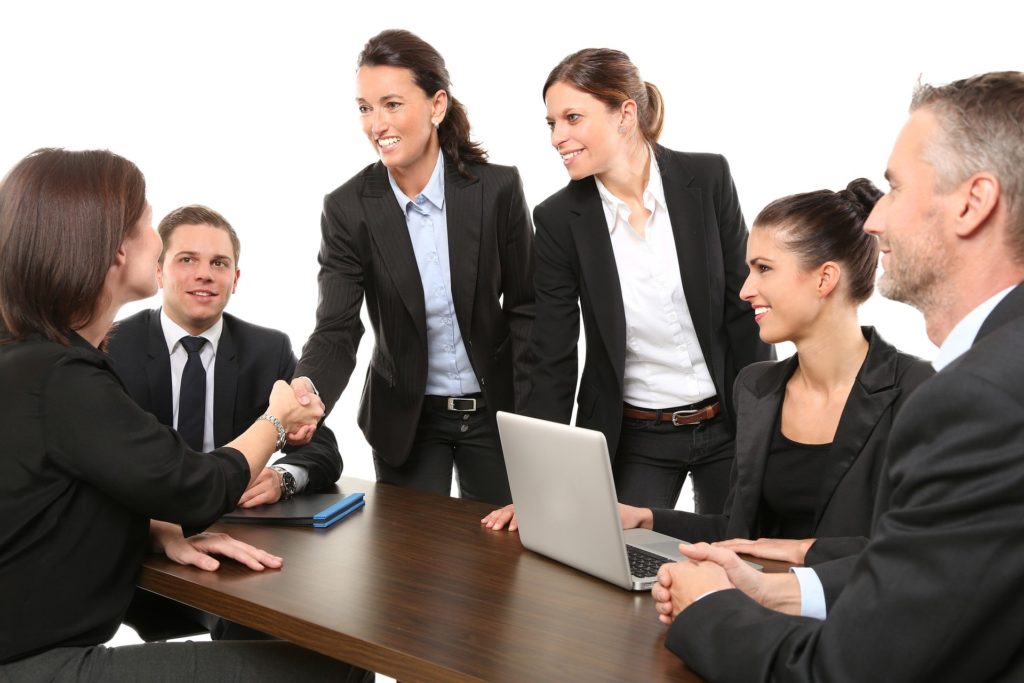 Negotiations
The objective of this module is to help you learn how to communicate effectively in English and develop the skills you need to successfully negotiate as a professional. You will learn how to speak confidently and fluently in public, participate in negotiations and discussions effectively.
Course Objectives
An introduction to negotiating
Opening the negotiation
Bargaining and closing
Tentative language
Negotiating tactics
Checking understanding and summarizing
The negotiation process
Socializing
This course aims to improve your communication skills for social situations. Socializing and small talk are some of the most important skills language learners have to master. Being communicatively competent in a variety of social situations is essential for any language learner.
Course Objectives
Introduce yourself and a colleague to people both within and outside of your company
Showing interest and making personal comments
Asking for and offering help
Disagreeing
Discussing your country and city
Current affairs and the economy
Business correspondence
This course aims to improve your Business English writing skills by developing your use of vocabulary, grammar, understanding of different business writing genres, and your ability to write professional business documents.
Course Objectives
An introduction to business correspondence
Write business emails
The style of written English
An introduction to report writing
Linking words and paragraph structure
The style of business reports
Figures and graphs
Each syllabus combines practical skills with business and industry specific language tailored to your needs so you make the right impact with your future clients and colleagues. They focus on language, listening and speaking skills that you can put to use right away in your job. And it's about more than just vocabulary. You'll learn the phrases, structures, techniques, and special expressions that will take your English ability to the next level.